Meljac & Urmet
The union to create solutions combining performance and aesthetics
Urmet France and Meljac combine their know-how to offer architects and public and private contractors, intercoms and access control systems combining technological efficiency and nobility of materials.
A partnership around concrete projects
It was after two great projects carried out together that Urmet France and Meljac decided to collaborate on a long-term basis to add to their respective ranges an intercom with high-end trim. The two French companies each offer innovative and attractive products that appeal to many architects, decorators and individuals. Their common goal: to combine functionality and aesthetics by relying on the quality of traditional Meljac know-how and on the high technological mastery of Urmet France.
Satisfy demanding customers
Pascal Perrin, Operational Director Urmet – Yokis affirms: "We are very happy to allow our customers to benefit from the incredible creativity of Meljac to imagine products finitions that meet all expectations. The intercom, but also, for example, coded keyboards or opening buttons, can be integrated perfectly into the building by highlighting the materials chosen by its designers. "
Jean-Michel Lagarde, Managing Director of Meljac, adds "We thank Urmet France for placing their trust in us to showcase the cutting-edge technology for which their reputation is based. This partnership allows Meljac to expand its offering in the area of access control. By combining our know-how, we offer a complete solution that is both elegant and functional. "
Recognized respective expertise
Meljac, leader in its market, designs luxury electrical equipment (switches, sockets, doorbells, table lamps, spotlights and reading lights, covers for thermostats, home automation systems, etc.). The brand, expert in tailor-made solutions, offers a wide choice of products, in various formats and finishes, with noble materials such as brass, glass, Limoges porcelain. Urmet France, the leading French manufacturer of comfort and safety equipment for collective and individual residential buildings, designs and produces intercoms, coded keypads and connected access systems. It is only natural that, in order to meet sharp demands in a very demanding market, the two companies offer tailor-made finishes.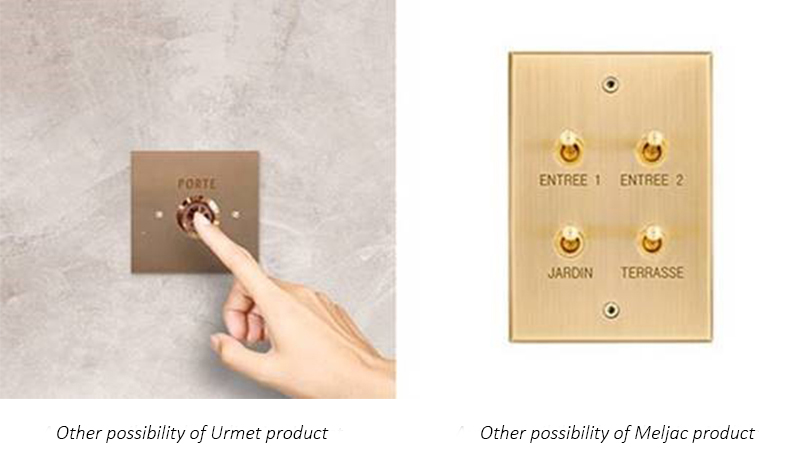 An example of an achievement in Paris:
Meljac / Urmet product will harmonize with the facade of the buliding housing the headquarter of the FFIE (French Federation of Electrician Integrators) and its future "Lab" of the best French know-how (Paris 16th).
Contact
Meljac has 2 showrooms
and a network of around 60 authorised dealers worldwide.
COVID-19: situation on 15th January 2021
Dear visitors,
Following the latest government announcements, our showrooms (Paris and Lyon) are adapting their opening hours from January 18, 2021, due to the 6:00 p.m. curfew:
However, in order to guarantee the best conditions possible, please try to anticipate your visit by making an appointment.
Monday to Thursday, 8 a.m. to 12:30 p.m. and 2 p.m. to 5 p.m.
Friday 8 a.m. to 12:30 p.m. and 2 p.m. to 4:00 p.m.
You can follow our communications @maisonmeljac on Instagram, Facebook, LinkedIn, Pinterest and Youtube.
Take care and see you soon.
MELJAC team
Close