Gilding on porcelain
The Limoges collection has the golden touch
MELJAC has decided to include hand-painted gilt motifs on its Limoges porcelain creations.
Known for its bespoke and personalised creations, the brand has been able to extend its range while still guaranteeing quality French craftsmanship.
Creativity and delicacy
The enamelled products are available in more than 30 shades, chosen from a dedicated colour chart, and can be embellished on request with hand-painted motifs. These custom options are now offered in gold.
The pieces are also available in white biscuit porcelain.
An avant-garde creator, MELJAC is continuing its quest for innovation by combining originality with quality, offering precision work on luxury materials.
Customisable templates: hand-painted motifs, engraved or screen-printed words, symbols, pictograms, etc.
Several sizes available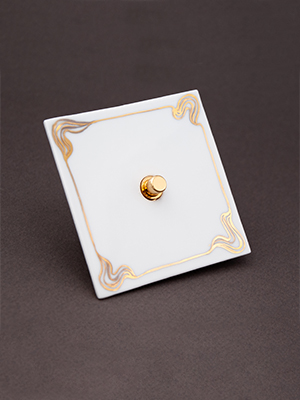 Contact
Meljac has 2 showrooms
and a network of around 60 authorised dealers worldwide.