Downtown Design – Dubaï
For the first time, Meljac is participating in the United Arab Emirates salon!
Meljac's first participation in the Downtown Design salon from 12th–15th November 2019, will take place in the Dubai Design District, d3 Waterfront terrasse — United Arab Emirates. This is an unmissable event that takes place during Dubai Design Week. It attracts international leaders in the trade as well as the most influential design professionals in the region.
Meljac products will be exhibited in zone A05. This space will include 7 French-speaking companies brought together by Business France, the agency that supports the promotion of French companies abroad.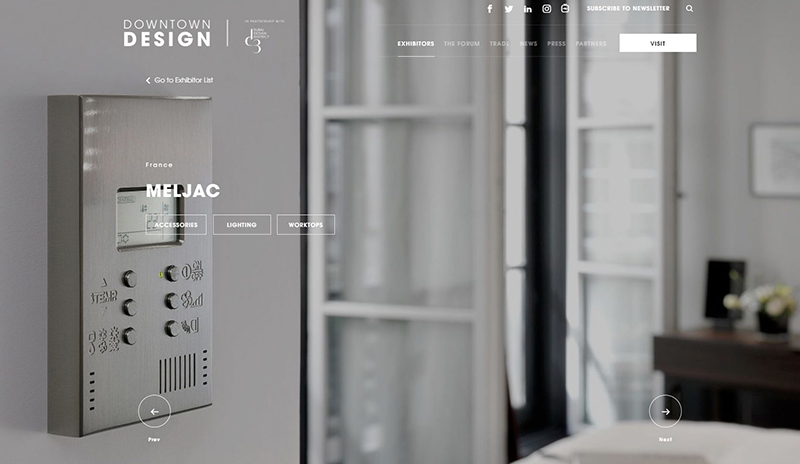 Contact
Meljac has 2 showrooms
and a network of around 60 authorised dealers worldwide.
Dear visitors,
During this current period, MELJAC remain vigilant and adjust its organization to optimize our service, while protecting the health of our staff.
               Paris:                                                                                                                                                 Lyon:
Meeting by appointment favored (01 40 61 08 43)                                                       Meeting by appointment favored (04 78 38 37 72)
                                   export@meljac.com                                                                                                                       lyon@meljac.com
                   From Monday to Thursday, 8:30 am-12:30 pm and 2 pm to 5:30 pm                                                  From Monday to Thursday, 9 am-1 pm and 2 pm to 6 pm
     Friday 8:30 am – 12:30 pm and 2 pm – 5 pm                                                                                           Friday 9 am – 1 pm and 2 pm – 5 pm
We invite you to follow our communications on Instagram, Facebook, LinkedIn, Pinterest and Youtube by keying @maisonmeljac.
Take great care of yourself and see you soon.
The MELJAC Team
Close